Pop Culture & Art:
Remembering our Beginnings
Description: In observance of Asian American and Pacific Islander Heritage Month, this video features reflections and stories from Asian American students at IU.

AAA x FAA x VSA Fashion Show 2020
Description: The Asian American Association, Filipino American Association, and Vietnamese Student Association of Indiana University collaborated on a fashion show video for the first time. Watch a creative expression of three AAPI student organizations!

IU ACC Presents: How to Make Dumplings
Description: IU Asian Culture Center student assistant David Sun shares his family's recipe for dumplings in anticipation of Lunar New Year 2021. Find the recipe
here
.
Spotify Playlist: Asian American and Pacific Islander Musicians
We're celebrating different AAPI musicians each week throughout AAPIHM! Our very own ACCers, Kelly Fan and Anna Mach, are curating playlists and compiling information about these artists and we hope that you give them a listen and support these amazing talents!
This week we'd like to showcase artists of the pop genre so feel free to give them a listen here: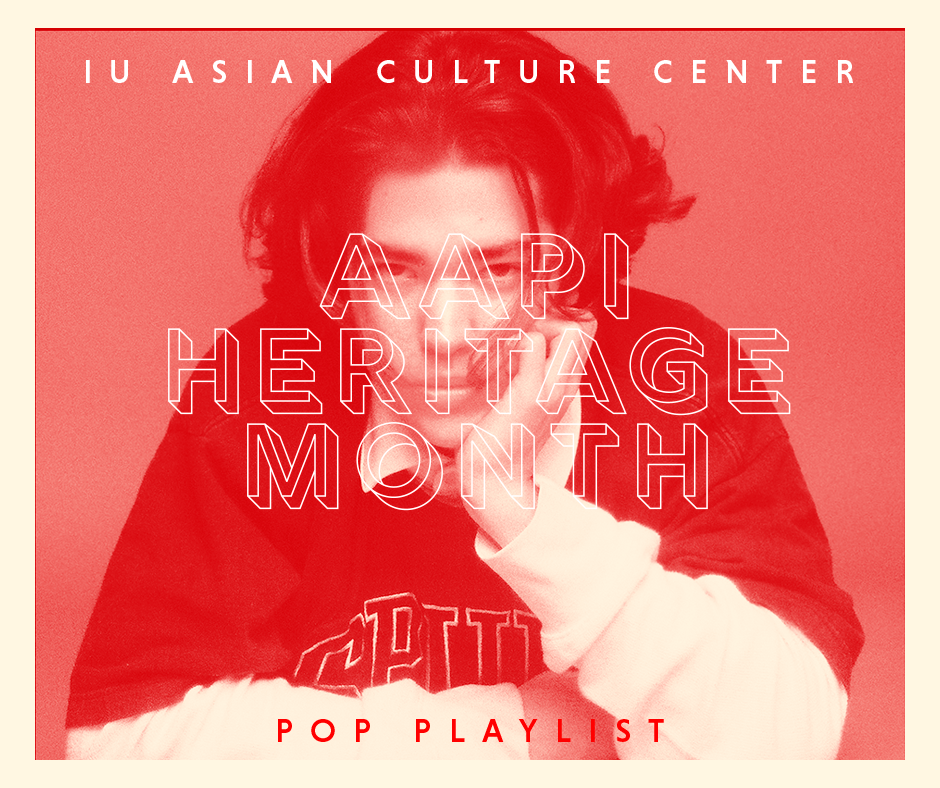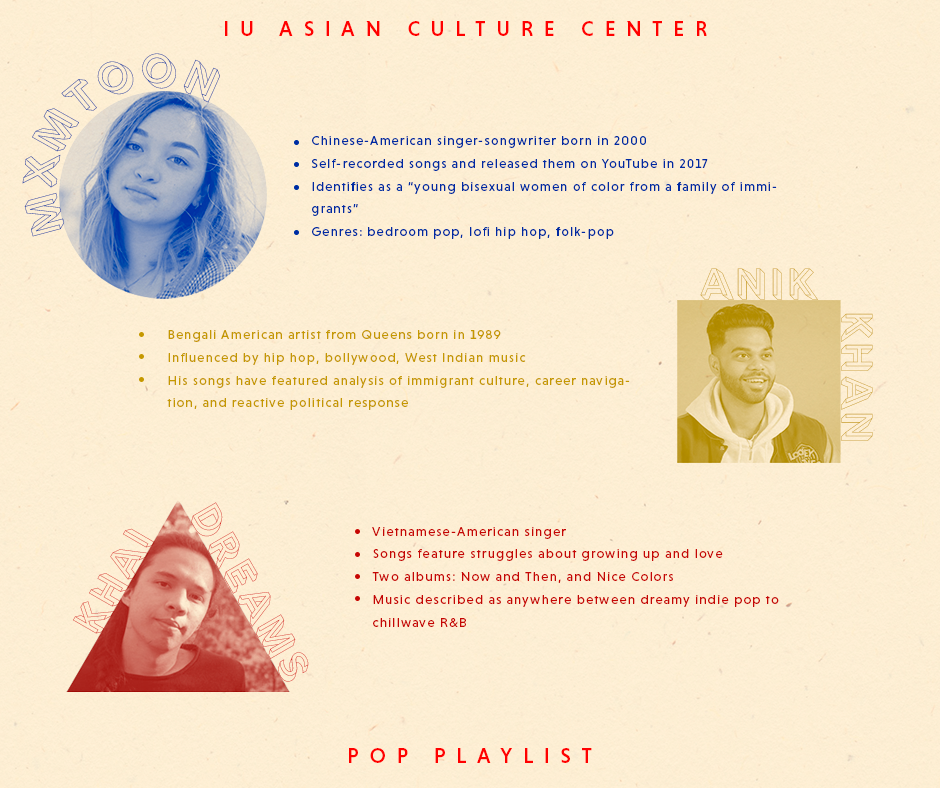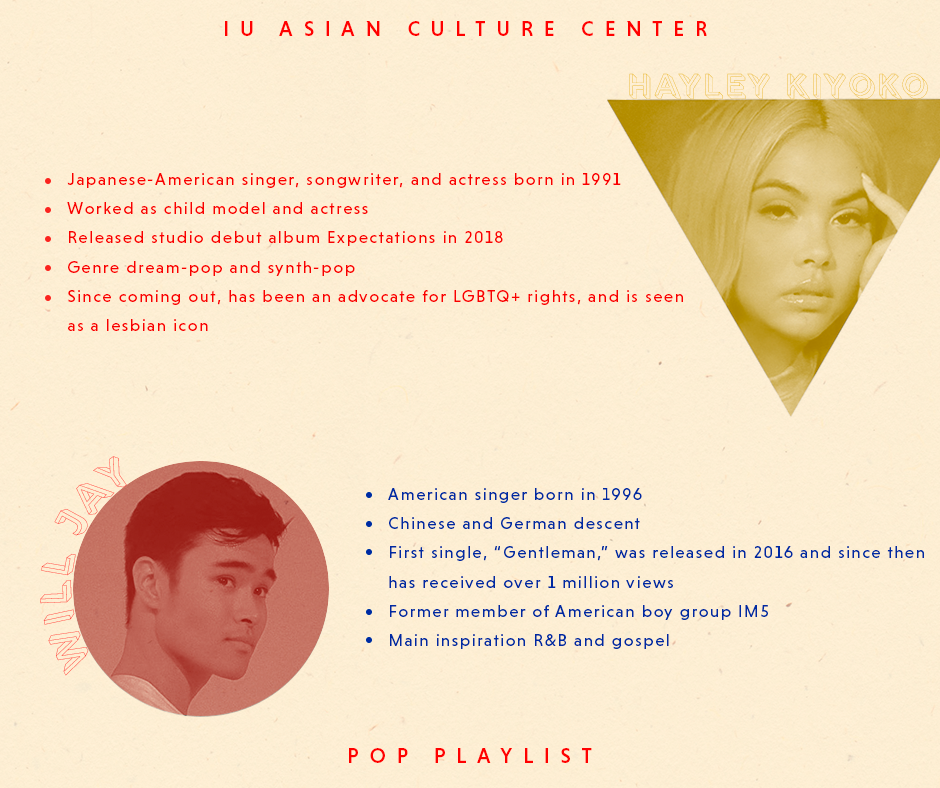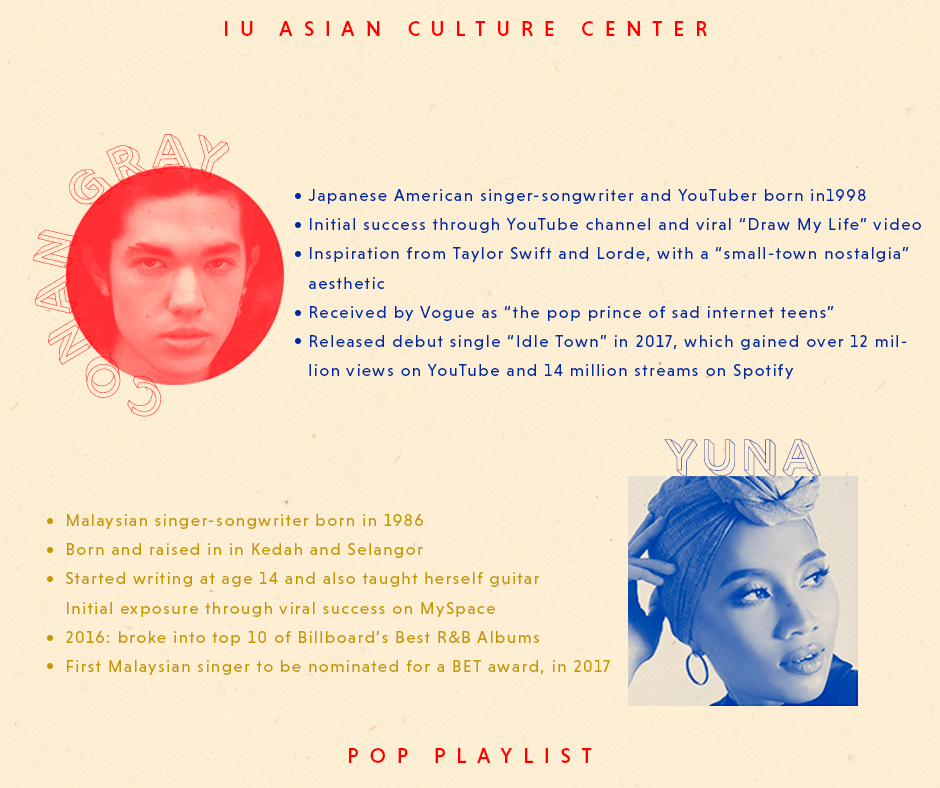 "Classical Covid" by IU Alumnae Tracey Jen (BFA '15) 
IU alumnae Tracey Jen (BFA Painting '15) recently created a video response to COVID-19: "We hope that music and art can be therapeutic to people during these difficult times." Tracey Jen is a Taiwanese-American artist, curator, and art instructor, currently based in West Lafayette. After IU, she went on to receive her MFA in Curatorial Practice from Maryland Institute College of Art in Baltimore. 


Asian American Studies Creativity Showcase Winner: Karen Cheng
Our web designer, Karen Cheng, submitted a video documenting her first week of online classes as a first-year student at Indiana University Bloomington. Besides talking about studying and classes, the video also offers tips for self-care/routines, clips of my day-to-day life, and brief historical notes. The aim of this video is to provide an entertaining break during these chaotic times while also informing quarantined viewers on helpful lifestyle habits.
 
Asian American Studies Creativity Showcase Winner: Kevin Phan
Our student assistant, Kevin Phan, submitted a video titled Surveillance to address the competition's theme "Asian Americans, Pacific Islanders + COVID-19."
Asian American Studies Department Creativity Showcase Winner: Tiffany Xie
Our student assistant, Tiffany Xie, submitted a poem titled Fish and Basketball to address the competition's theme "Asian Americans, Pacific Islanders + COVID-19." Read the poem here.
History:
Japanese American WWII Incarceration and Indiana University: History Briefing by the IUB Center for Veteran and Military Students 
On Feb. 19, 1942, President Franklin D. Roosevelt signed Executive Order 9066, authorizing the internment of tens of thousands of American citizens of Japanese ancestry. Sharing in the hysteria, the IU Board of Trustees voted on May 9, 1942 to bar the admission of Japanese American students to IU. In this video history briefing, John Summerlot, Director of the Center for Veteran and Military Students at IU Bloomington, talks with IU Alumnus Eric Langowski and explores how Japanese-American veterans played a role in breaking that ban.
---
Resources on responding to COVID-19 related racism and xenophobia 
The Asian Culture Center, with the assistance of other units, has compiled a list of resources for students, faculty, staff, and community members page. This page provides links to report bias incidents and hate crimes, ways to respond and stand against racism, and additional readings.
More resources for IU students, faculty, and staff
We are sharing a list of resources that other organizations located on and off campus have compiled in addressing support for food, shelter, financial and well-being needs for faculty, staff, and students. This page also includes articles about community-engaged classes and programming, virtual volunteer opportunities, and regional resources. 
Update on COVID-19
Please visit coronavirus.iu.edu for up-to-date information, but also feel free to contact us acc@indiana.edu.
The doors to the IU Asian Culture Center may be closed, but we are more than happy to assist, chat, and engage with you in a remote fashion.