Growing Together
The Asian Culture Center (ACC) promotes CARE by:
fostering Cultural connections
promoting Advocacy
serving as a Resource
supporting Engagement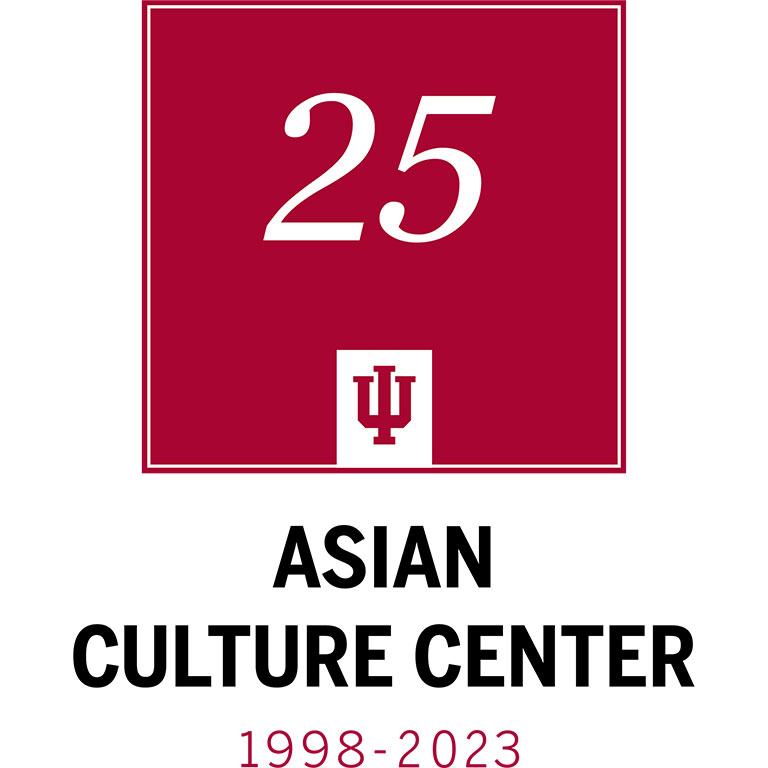 Our story began in the 80s and 90s when a group of IU Asian American and Asian international student leaders and many student groups advocated for meaningful changes on campus. These changes on campus included establishing a nurturing home—where students could gather to learn, celebrate, and affirm their Asian, Pacific Islander, and Desi American heritage. They envisioned a place where their talents and passions could be recognized, their stories and voices heard, and where they could be seen and celebrated! The ACC was born on October 3, 1998, with these goals in mind.
The Asian Culture Center will celebrate its 25th year on the Bloomington campus this fall. To this day, we strive to live up to students' aspirations, past and present.
Your Gift at Work
Throughout the 25 years, the ACC has been steadfast in fulfilling its mission.
With support from students, faculty, staff, and community members, we continue to hold stimulating discussion programs, including Over a Cup of Tea, Who Are Asian Pacific Americans, and Hearabouts: Asian American Midwest radio podcast. We organize leadership and identity development retreats such as Retracing Our Roots and host cultural and workshop events, including cooking demos, henna, calligraphy, and origami. We also bring students on educational field trips like DestinAsian and offer free Asian language learning classes and tutorials. And most importantly, we listen to and advocate for the needs of our students.
In the summer of 2020, we conducted a "Self-Assessment Survey" using the "Guide for Multicultural Student Programs and Services" model. The resounding result of that survey is for the ACC to expand and grow! What would that growth look like? It would mean bringing our programs and services to Hoosiers beyond Bloomington, building partnerships with more Asian American and Pacific Islander communities, and serving people across Indiana. We can only accept this challenge with your support!
As the landscape for the Asian Pacific Islander community in the United States continues to change, it has been so important to come together as alumni, faculty/staff, and students alike.

Camille Huang, Vice President, IU Asian Pacific Islander Alumni Association
Give Today
Please join us as we celebrate our 25th year and share our dream of expanding and growing for the next 25 years. By contributing $25.00, $250.00, $2,500, $25,000, or more, you can help us reach our vision of serving the many generations of Hoosiers.
Thank you to our donors!
Marium Ansari
J. Adam Bain
Kayleigh M. Begley
Molly Cai
Melanie Castillo-Cullather and Nicholas B. Cullather
Rebecca Casey & Joseph Cullather
Kevin K. Czachura
Maria J. Douglas
Jianhua Gong
Sofia T. Hay
Che-Tsao Huang and Esther Y. Huang
Jason Chi and Cara Huang
Seonmi Jin
Jules Lin and Susanna W. Lin
Sylvia Martinez
David Chih & Teresa Mok
Joon Park
Dr. Daisy Rodriguez Pitel
Roberta M. Radovich
Jennifer C. Lee-Rawe and Donald J. Rawe
Santi Rungsiyaphornratana and Somruedee Rungsiyaphornratana
Christine A. Wo and John M. Wo
Cynthia Wu
Jingwu Xie and Xiaoli Zhang
Karen Zhang
Hui Cao and Yi Zhu
$15,605 of the $25,000 goal has been raised through donor gifts as of September 19, 2023.
Your Gift Impact
Learn more about how your gifts make an impact on IU AAPI students.
Download the 25th Anniversary Social Media Graphic
Whether you make a gift to the crowdfunding campaign or by mail, if you use social media, we hope you will share with others how to celebrate the Asian Culture Center's 25th anniversary. Be sure to use the hashtag #ACC25.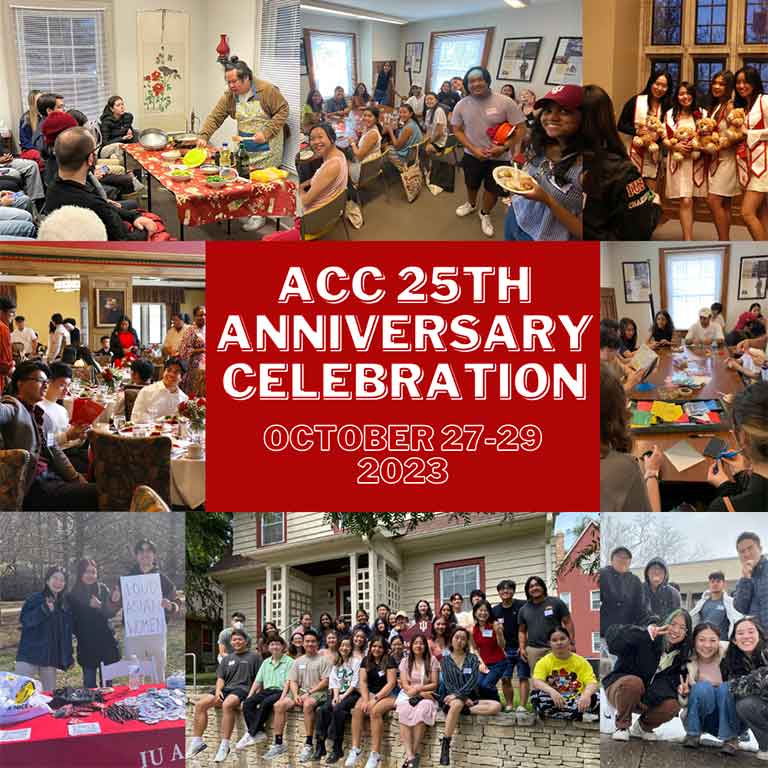 More Information
For more information about how to make a gift, please contact Melanie Castillo-Cullather, director of the Asian Culture Center, at acc@indiana.edu.
Mail gifts to:
Indiana University Foundation
Post Office Box 6460
Indianapolis, IN 46206-6460
The Indiana University Foundation solicits tax-deductible private contributions for the benefit of Indiana University and is registered to solicit charitable contributions in all states requiring registration. For more information, please review our full disclosure statement. Alternative accessible formats of documents and files on this site can be obtained upon request by calling us at 800-558-8311.